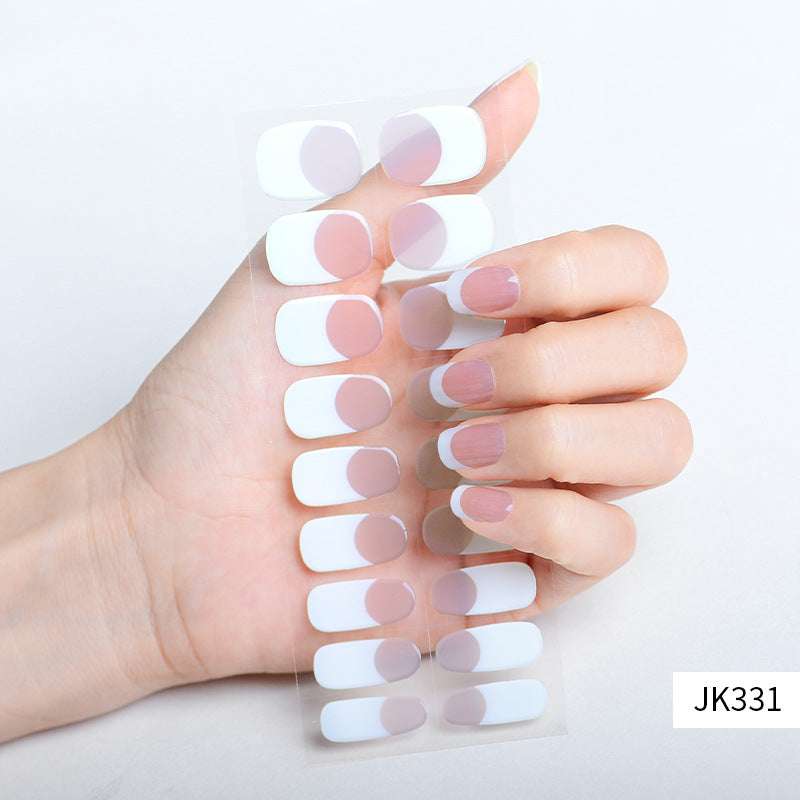 [JK331]UV Gel Nail Wraps
Frequently bought together
Each set of UV Gel Nail Stickers includes the following goodies:
1x 20 Pieces Semicured Nail Strip
Nail File
Wooden Stick (To remove and smooth edges)

**UV Lamp not included. You can get the UV lamp here.

Size:

Smallest - 8mm in width
Largest - 17mm in width
Length- 34mm
Prep your nails.
Prep your nails by wiping it down with nail polish remover. This helps remove any natural oil and moisture on your nails.

Right fit.
Choose nail sticker size which fits your finger nail size. There's 20 to choose from, so it suits all finger nails. Big, small or tiny.

Stick it.
Peel off the film on top and apply the semicured gel nail to your finger. Please apply slightly away from the cuticle. You want to make sure the sticker stays on your nails and doesn't touch the skin.

Trim it.
Using the nail filer, file the leftover semicured gel.
Cure it.
Cure 2 times under the UV lamp

Remove it.
There's purpose for that tiny wooden stick! Push gently around the edges of the nail to lift up the nail sticker. We recommend soaking the wooden stick in nail polish remover!
Smallest - 8mm in width
Largest - 17mm in width
Length- 34mm
Benefits of semi-cured gel nail stickers?

Affordable - Much cheaper than a manicure at a nail salon. A nail kit can be used twice if you glue the excess back onto the sticker for another manicure. Make sure the nail art stickers are kept away from heat and light sources!
EASY TO APPLY AND REMOVE - If you know how to apply stickers, you know how to use this gel nail art sticker!
SAVE TIME - Using gel nail stickers is faster than applying gel nail polish and curing between coats, and faster than making appointments, going to the nail salon and getting your nails done at the salon. It only takes 20 minutes or less.
Long lasting - lasts for over two weeks if nails are properly prepared.
Doesn't damage nails - won't soak off with harsh chemicals. Simply use a wooden cuticle stick to gently remove the nail cap.
Long drying time - unlike nail polish, there's no need to wait for your nails to dry so you don't have to worry about smudges, dents or fabric/hair marks.
Doesn't smudge - unlike nail polish, there is no spillage or accidental application onto fingers.
No Odor - Unlike gel nail polish, Gellaes have no odor.
No Design Skills Required - You don't need to know how to do nail art, the design on the sticker is already done.
SUPER FUN - You can change your nails anytime you want! With over 1000 designs to choose from, your nails will always look fresh.
Please allow 1-2 business days to process and pack your order. For delivery lead times, please see Delivery & Returns.

Shipping to the world, FREE International Shipping for all orders.

We hope you will have a good shopping experience.If you have any questions, please email us, we will provide all assistance.
✨Buy 3 sets of UV gel nail stickers and get 1 UV lamp for free
🎉Buy 5 UV gel nail stickers set and get 1 UV lamp and 1 nail clipper for free
Certificates:
The company has passed BSCI social responsibility system certification and ISO9001 quality system certification.
Our products are SGS certified, FDA certified, and comply with the global cosmetic standards of the United States and the European Union.
Easy to put on. Lasted 4 weeks
I love that I can do a professional look at home AND they cure dry under the UV light in minutes - super fast! They keep my natural nails from chipping & splitting so they can grow out naturally and regrow easily. No harsh chemicals or sanding my real nails too thin. Love them!
I was scared these wouldn't work
Okay, this is my first time ever that I have used gel press on nails. I've done dip at home before. I'm not a nail tech. I bought the uv light and the top coat basic from the same company. I definitely have some learning to do and things I want to try differently next time. I'd make them sorter and match it more to my nail than leaving extra gel for one, I'd get one of them rubber do dads instead of using the orange wood do dad thing a Ma-bobs that they give you to rub the gel on. The gel doors dent easily before it's cured which is why I'd like to try the rubber one next time. Even though they dent. I was able to smooth it out with my finger and after curing I can't even find the dents I made. I should have pressed down more near the top of my nail they kinda flared up a little bit but it's really not that bad especially after filing. That was definitely my error in application. The other hand is fine and it's not flared up at all and I made them slightly shorter than the other hand. It's not noticeably shorter than the other hand. Total application from start to finish was about an hour only because I'm slow AF with my left hand and I had some struggles. I ripped one of the nails in half while trying to stretch it. I used nail scissors to make it smaller. It still went over my finger bed a little bit. I was able to gently file that off my finger and it looks normal and not funny looking. They're super easy to file and shape after curing. I'll definitely use these again. Another thing I'd suggest is getting alcohol wipes. It comes with two but I used at least 4 in total. I wiped my naked nail, cured the gel, filed, wiped the gel before putting on a top coat and curing that. I beat up my nails. I'm a mom and I work as a preschool teacher. I'm constantly washing my hands and cleaning. So I'll update on how they stand up to my brutality of hand washing and cleaning.
Not bad
I had low expectations for this because of the reviews but I am pleasantly surprised by the quality. It took a bit of getting used to filing off the extra nail strip off the nails but other than that it was pretty easy to put on. Turned out much better than if I had painted my nails. This photo was taken 3 days after I put it on CSV.
Would buy again.
These cured gel nails worked really well for me. I am a CNA and do a lot of heavy lifting and these gel stickers held up extremely well. I would add that I also purchased a UV lamp after reading customer reviews and I do believe the lamp is key to long lasting wear for these. I would also add that I believe nail prep with an emory board and drill helped too