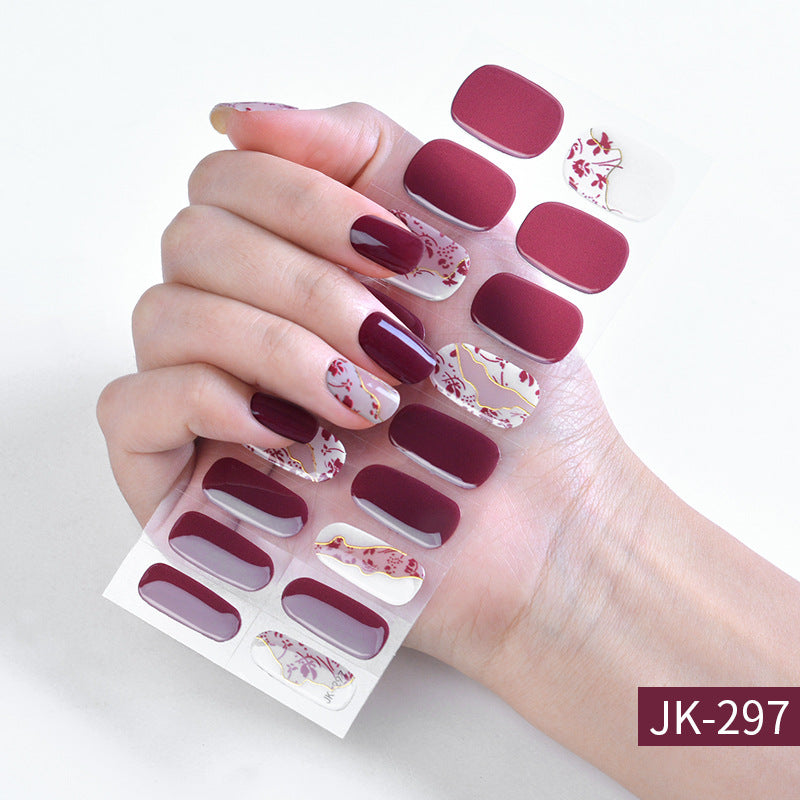 [JK297]UV Gel Nail Wraps
Frequently bought together
Each set of UV Gel Nail Stickers includes the following goodies:
1x 20 Pieces Semicured Nail Strip
Nail File
Wooden Stick (To remove and smooth edges)

**UV Lamp not included. You can get the UV lamp here.

Size:

Smallest - 8mm in width
Largest - 17mm in width
Length- 34mm
Prep your nails.
Prep your nails by wiping it down with nail polish remover. This helps remove any natural oil and moisture on your nails.

Right fit.
Choose nail sticker size which fits your finger nail size. There's 20 to choose from, so it suits all finger nails. Big, small or tiny.

Stick it.
Peel off the film on top and apply the semicured gel nail to your finger. Please apply slightly away from the cuticle. You want to make sure the sticker stays on your nails and doesn't touch the skin.

Trim it.
Using the nail filer, file the leftover semicured gel.
Cure it.
Cure 2 times under the UV lamp

Remove it.
There's purpose for that tiny wooden stick! Push gently around the edges of the nail to lift up the nail sticker. We recommend soaking the wooden stick in nail polish remover!
Smallest - 8mm in width
Largest - 17mm in width
Length- 34mm
Benefits of semi-cured gel nail stickers?

Affordable - Much cheaper than a manicure at a nail salon. A nail kit can be used twice if you glue the excess back onto the sticker for another manicure. Make sure the nail art stickers are kept away from heat and light sources!
EASY TO APPLY AND REMOVE - If you know how to apply stickers, you know how to use this gel nail art sticker!
SAVE TIME - Using gel nail stickers is faster than applying gel nail polish and curing between coats, and faster than making appointments, going to the nail salon and getting your nails done at the salon. It only takes 20 minutes or less.
Long lasting - lasts for over two weeks if nails are properly prepared.
Doesn't damage nails - won't soak off with harsh chemicals. Simply use a wooden cuticle stick to gently remove the nail cap.
Long drying time - unlike nail polish, there's no need to wait for your nails to dry so you don't have to worry about smudges, dents or fabric/hair marks.
Doesn't smudge - unlike nail polish, there is no spillage or accidental application onto fingers.
No Odor - Unlike gel nail polish, Gellaes have no odor.
No Design Skills Required - You don't need to know how to do nail art, the design on the sticker is already done.
SUPER FUN - You can change your nails anytime you want! With over 1000 designs to choose from, your nails will always look fresh.
Please allow 1-2 business days to process and pack your order. For delivery lead times, please see Delivery & Returns.

Shipping to the world, FREE International Shipping for all orders.

We hope you will have a good shopping experience.If you have any questions, please email us, we will provide all assistance.
✨Buy 3 sets of UV gel nail stickers and get 1 UV lamp for free
🎉Buy 5 UV gel nail stickers set and get 1 UV lamp and 1 nail clipper for free
Certificates:
The company has passed BSCI social responsibility system certification and ISO9001 quality system certification.
Our products are SGS certified, FDA certified, and comply with the global cosmetic standards of the United States and the European Union.
Amazing
Due to medical issues I have ridges in my nails that split and peel. Even with ridge filler polish won't last more than a few days. The nail stickers last 10-14 days on me. They are easy to apply. The directions tell you not to leave it longer than your own nail so I don't understand people trying to make extensions out of them. I buy two of the same color so that when one comes off I have extra to put on if I'm on a trip or something I use rubbing alcohol at home and save the pads and everything for when I'm on a trip. I have small nail beds so I'm trimming the product if I don't have extra. I don't cure them and neither does my daughter because I feel like they shrink a small amount. They get hard after a day anyway. Just press the edges down well with the cuticle stick by the cuticles . You can still tell if you look really close that I have all the ridges but you should see it without the stickers on such an improvement
Buon prodotto
Facili da utilizzare molto simili al semi permanente, facili da usare e gestire ,effetto gel stupende le consiglio
Una svolta!
Non sono mai stata molto brava a farmi la manicure da sola. Ho usato spesso smalti in gel semi permanente, ma duravano al massimo una settimana e il risultato non era mai perfetto. Ho applicato questo smalto adesivo, 60 secondi di fornetto e il risultato mi ha più che soddisfatto.
Nagel
Ich bin sehr zufrieden, meine Nägel sehen seit 11 Tagen wie neu aus.
Good so far
Look lovely. Only day 2 but still feel sturdy. Will be ordering more.